"Kragh Berglund has successfully created an urban space with an obvious identity that enters into subtle dialogue with the buildings and the landscape."
Claus Johnsen Alderman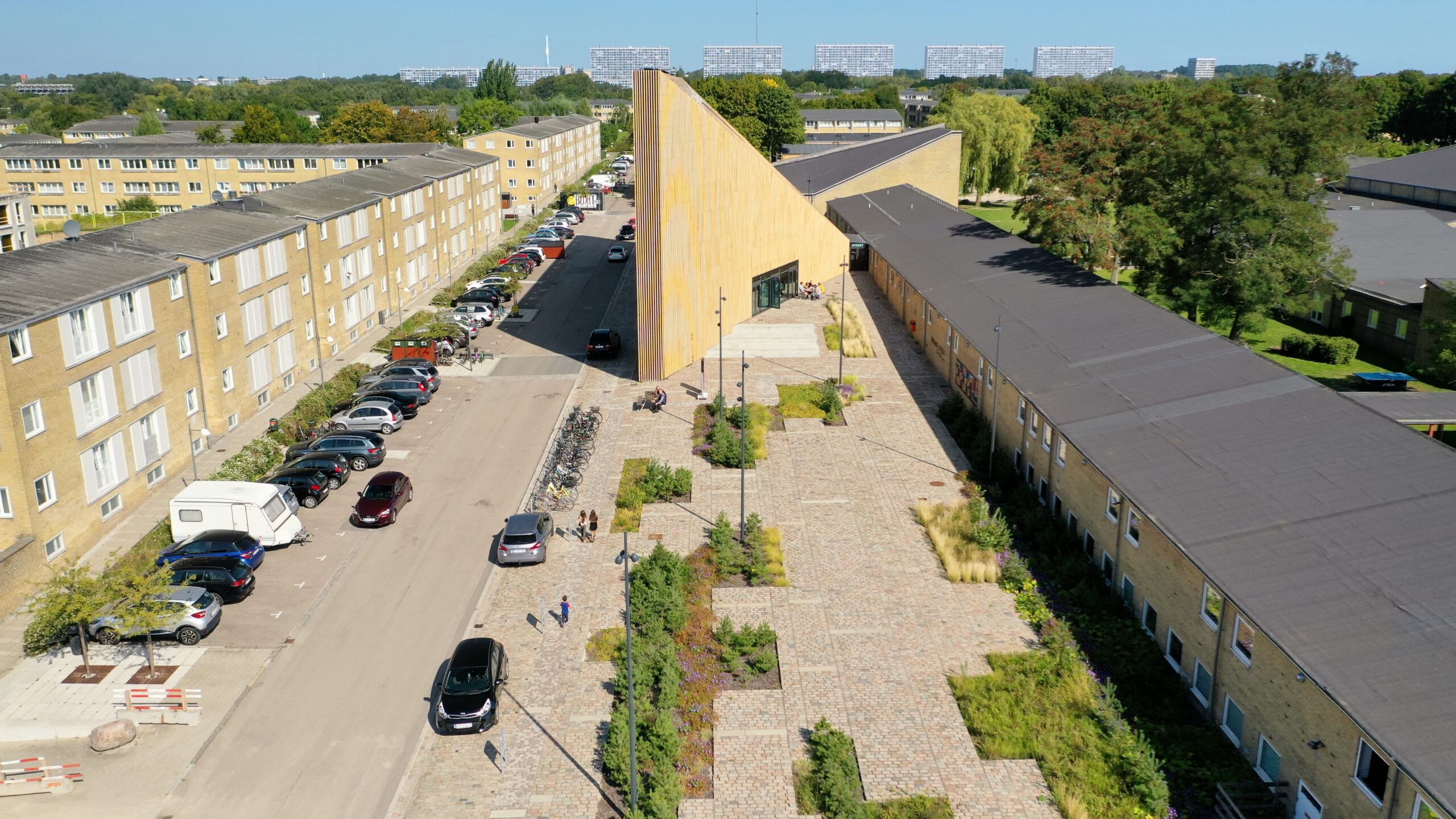 Location
Tingbjerg, Denmark
Project leader
Karen Tovgaard
Client
Copenhagen Municipality
Construction cost
4,300,000 DKK
Image Credits
DronePixels, Rasmus Hjortshoj, Laura Stamer
Tingbjergs Culture House and Library is located in the important cultural environment in the district created by architect Steen Eiler Rasmussen and landscape architect C.Th.Sørensen in the 1950s. The new culture house is a new distinctive landmark for Tingbjerg and is intended to promote cohesion and community in the area. Kragh Berglund's square around the building is rooted in a similar set of aspirations. It can host informal activities as well as market days and other large-scale cultural events.
Kragh Berglund has taken into consideration the area's unique context and history and meticulously added green elements. This gives the the residents of Tingbjerg a possibility to experience the changing of seasons and the growing of the trees. The landscape was designed with the participation of the users to ensure the kind of local anchoring that the district needs and which helps create a space for the users to take pride in and use for informal meetings.
Kragh Berglund were asked to design the square surrounding the new cultural house and library in Tingbjerg. The building is located in the historically important neighborhood created by the landscape architect C. Th. Sørensen and the architect Steen Eiler Rasmussen. The new cultural house is an important new landmark whose function, among other things, is to promote a sense of cohesion and community in the area. Kragh Berglund have designed the square around the cultural house with the same values in mind. The space is meant to encourage informal and recreational activities, as well as market days and other cultural events on the floor of the city.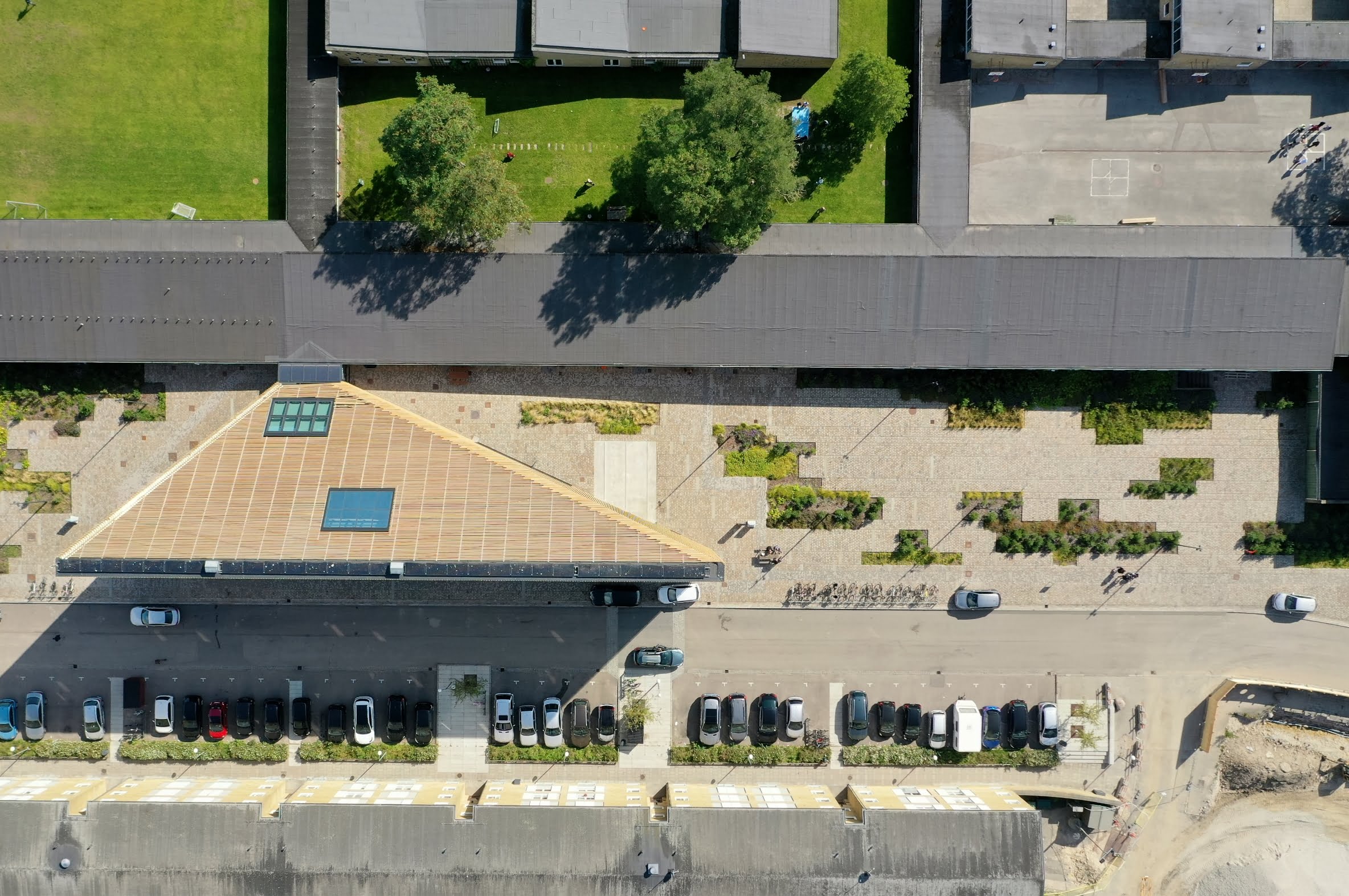 Kragh Berglund have carefully considered the unique context and history of the place in designing the square. Green elements of urban nature were added to give the locals an opportunity to experience the changing of the seasons and growing of the trees. In order to ensure the kind of local anchoring that is so important to this neighborhood, the locals were asked to help design the landscape.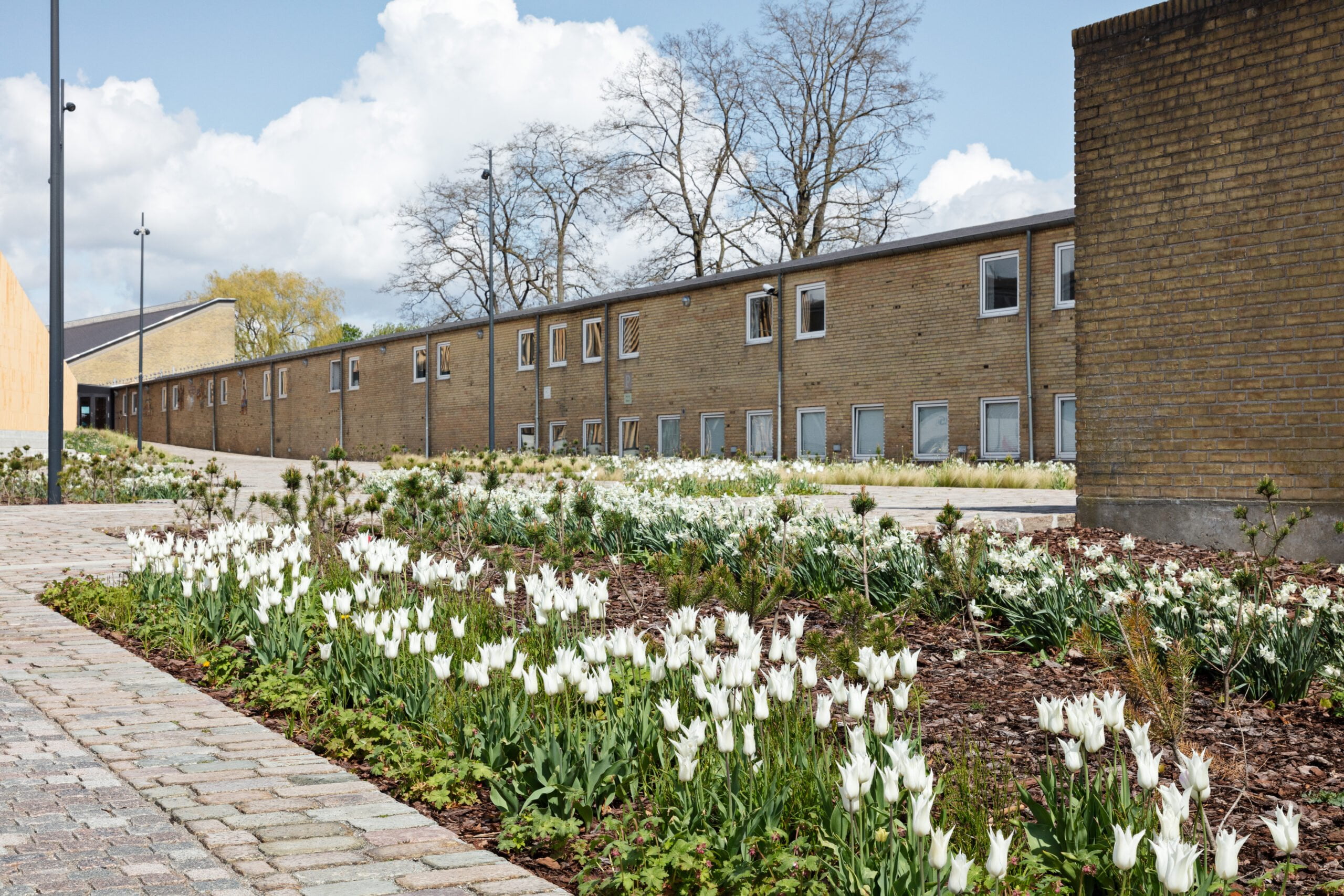 The original cobblestones have been recycled to provide the square with its own particular identity that is at once recognizable, innovative, and poetic. The shape, color, and surface of the stones make them unique; they are full of history and the new combinations of patterns turn them into little works of art. The expression of the square is simple – at once sophisticated and practical. Here, nature generates spatial variation, sensory experience, and a high level of biodiversity. The project won "Brolæggerprisen" ("The Pavior Award") 2018.
Relevance:
The cultural house and the square are the beginning of a comprehensive urban renovation process in the area. The two constitute the neighborhood's new cultural gathering point. The building and the landscape have been embedded into the existing landscape and bring to mind Steen Eiler Rasmussen and C. Th. Sørensen's iconic architecture.
Want to learn more?
Contact Karen Tovgaard
kar@kragh-berglund.dk
+45 81 72 74 52